Blog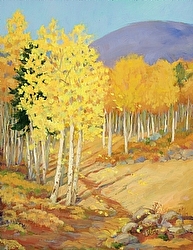 I am up in New Mexico's Jemez Mountains. Trails and traces of old homesteader roads meander through the woods and open into glorious sun-drenched spaces. It could be 100 years ago.

Aspen leaves click softly in the breeze. Sunlight slants lower and lower, melding everything it touches with golden light as my brush streaks across the canvas. I breathe in cool, golden mountain air; it smells like snow will be here soon.

Frost has already touched these leaves since I started the painting, and the sun's warmth sends them drifting slowly to earth. My hikes up the trail are now through crunchy piles of leaves and I can see more deeply into the woods. Sign of deer and elk and the occasional bear show nesting spots and feasting in preparation for the cold to come. Mine are not the only footsteps along this path.

My senses absorb these sounds, feelings, smells, and sights which flow silently onto the canvas as I paint. A picture is worth a thousand words, and hours in the woods soaking up the fullness of the place and time. Each painting is a doorway into a world of shared experience.

Soon I'll need 4-wheel drive to get up here, and some places will be closed to me until Spring by drifts too deep to negotiate. Up in these mountains, or out in the lower mesas, along the river or by the lake...these are places where I feel at peace.



Comment on or Share this Article >>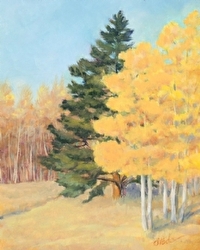 I had a great day at last Saturday's Santa Fe Artist Market. Like everyone, I have bills to pay, supplies to buy, items to update, but...I've been wondering how to get more into the flow of true abundance.

There is an aspect of giving as well as receiving and having that keeps it all working, and I decided...now was the time to share the wealth. I purchased small, beautiful pieces from three artists, and I am thrilled. I still have money for the bills, and I am enjoying a feeling of great wealth with the presence of handmade works of art in my life.

They add a richness to my life that goes beyond so much else that I could buy. And I am placing my money where my values are...with art and the artists who add beauty to our lives.

Have a beautiful day,

Stede


Comment on or Share this Article >>